News
Subscribe to posts
Date: 30 June 2016, Manchester
After the success of Agile Methods in London, UNICOM is pleased to organise Agile Methods North in Manchester.
This event originates from the idea that learning about Agile Methods are important; but that understanding HOW they apply to the companies' specific contexts is critical. Independent agile practitioners and organisations will benefit from the conference mix of case studies, thought-provoking presentations and discussion sessions. Not matter if you are new to agile, there is always more to learn to improve the way it is introduced, sustained and scaled.
The event is focused on these key topic areas:
Agile Programme & Project Management (for all business sectors)

The public sector

The banking, finance and insurance (BFIS) sector
You can get a 15% discount on ticket price, when referencing: AY15
Returning for it's 2nd year, Agile Manchester is the hands-on Agile and Lean conference happening at the studio, Manchester from 11-13 May 2016.
The conference has been created to provide Agile practitioners - from novice to advanced - with a collaborative, fun and hands-on atmosphere in which to grow as professionals.
Members of Agile Yorkshire can access a 10% discount using the code AGILEYORKS2016 or this link:
https://agilemanchester2016.eventbrite.co.uk/?discount=AGILEYORKS2016
Check out
www.agilemanchester.net
and follow
@agilemanc
and
#agilemanc
for all the info!
Everyone who's been part of the lean / agile community for long knows how hard it is to change the way an organisation does things. Organisational culture emerges from the way it is lead and how people within it get things done. Often individuals want change to happen but a majority are needed to reach a tipping point. Jon Dickinson, a consultant with Equal Experts talks about recent experience with clients and the influence factors that have helped deliver better outcomes. Equal Experts have become sponsors of Agile Yorkshire for 2016.
Agile Yorkshire's mission has always been to "help our region become a fantastic place to build software" and one way we try to do that is by supporting local experts and the passionate, talented people, who come along to our monthly meet ups. These gatherings help practitioners find each other and provide a platform for exchanging ideas, sharing experiences and growing personal skills outside a single workplace. It's great to see Equal Experts also recognise that talent is everywhere and move into our region. It fantastic when they also share our values enough to support Agile Yorkshire and help us to continue to support our region. Below is a quote from Equal Experts about their new association with Agile Yorkshire.
"Equal Experts is an award-winning agile consultancy, specialising in simple software solutions for big business challenges.
Our approach prioritises expertise – our consultants typically have at least 10 years' experience. And since we're keen to work with the best talent wherever it lies, we're now actively seeking to grow our network in the north.
We respect our teams, our clients and third party providers equally – a grown-up approach that's helped us to be recognised by
Glassdoor
as one of the UK's best employers for work-life balance, all while delivering exceptional software for clients as diverse as O2, Tesco and HMRC.
We'd love to meet you at our next NiteTech North event. Held in Leeds on February 24, there'll be drinks, nibbles, and a couple of talks that will give you an idea of what we're all about. Hope to see you there – just
sign up on our meetup page
."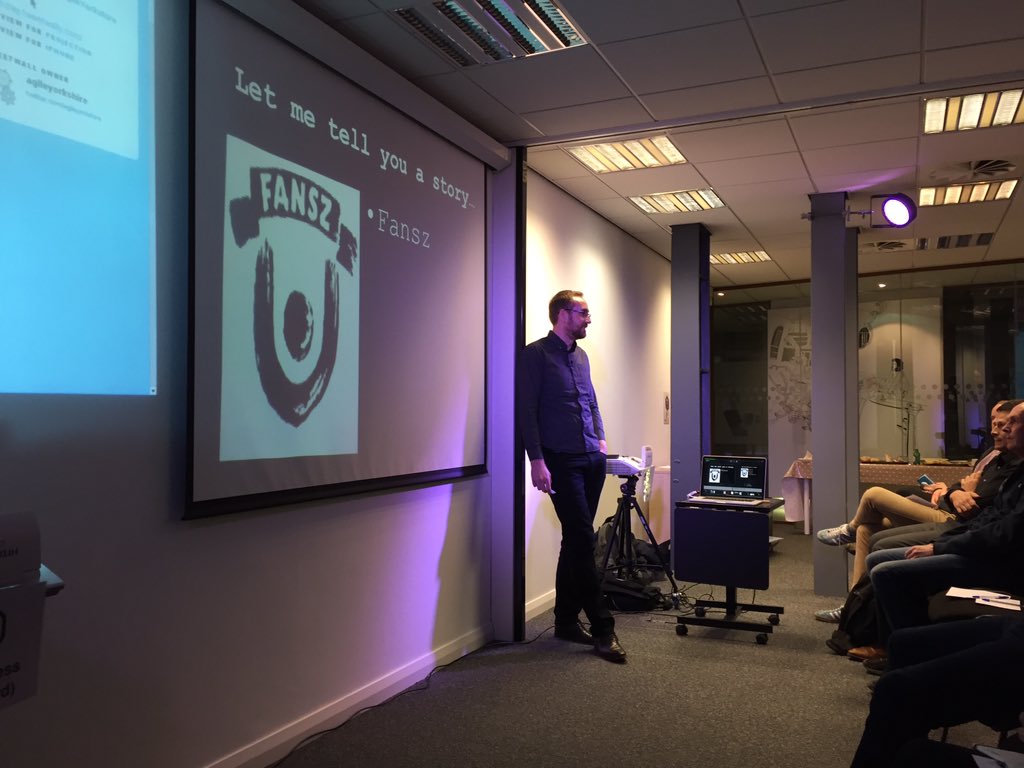 I have to admit that when I arrived at the January 2016 Agile Yorkshire event, I was nervous. A first timer, non-developer, taking notes…what was I thinking? Luckily, there was a warm welcome, plenty of friendly faces, and the speakers definitely provided some food for thought.
First up was test consultant, Ash Winter, who thinks testing is great. That is, testing that delivers value and is suited to the context. Is a full test suite necessary for a product at beta? The presentation showed how a failure can be the best source of learning. For anyone not familiar with the pain of failure there was a photo of a sad puppy – point made! So what suggestions did Ash give? It's important to have an evolving strategy and engage regularly. Ash also mentioned the importance of thinking small and having different tests at different testing levels (Testing Pyramid). Another great suggestion was to pair early especially with developers and write the tests first (Test Driven Development). Consider that tests have a life-cycle and every test must eventually die. Ensure the tests serve you and not the other way round.
David Turner discussed his Agile Journey with the group, highlighting the growing confusion around Agile terminology.  As 'Agile' means different things to different people, it is important to check there is a common understanding from the outset. Rather than focusing on 'Agile' David focuses on pragmatic delivery, i.e. what is the problem you are trying to solve? David believes Agile is really a people management issue, for example, 'how can you best manage a group of IT professionals to deliver something of value?'  He suggested that a good start would be autonomous teams empowered to make decisions, highlighting the importance of thinking about individuals and what motivates them.  David emphasised that emergent architecture is good; rather than making wrong architecture decisions too early, defer these decisions to the point where they need to be made.   On discussing Agile roles, David's view is that '4 developers and a whiteboard' are all that's needed (at this point in the presentation, developers nodded their heads in agreement!) [While a sharp intake of breath could be heard from the rest of the audience - ed]. Finally, David reinforced the importance of treating projects as individuals –a 'one size fits all' mantra is not being Agile.
Slides from the evening
The world's longest running agile conference is coming to the UK for only the second time in its 17 year history. It has always been the only european agile conference to bring academics and practitioners together, but this year it returns to its pragmatic roots, with presentations, workshops, experience reports, tutorials and open space discussions for developers, architects, testers, managers and coaches. Combine that with excellent value, on-site accommodation, an inclusive social programme and a 10% community discount and you have an unmissable event. We look forward to meeting you!
Agile Yorkshire discount code: COMMUNITY-AYORK
Feb25, 2016 - London, UK
It comprises three parallel tracks with plenary combined sessions, each with a different and specific focus.  One of these is for all business sectors and addresses the Agile Programme and Project Management. The other two tracks focus deeply on the unique challenges encountered when introducing, sustaining and scaling Agile within (1) the public sector and (2) the banking, finance and insurance (BFIS) sector.
February 11, 2016 -Manchester, UK
Another thanks to Unicom for allowing Agile Yorkshire to offer our community a 10% discount on tickets for the upcoming Testing Showcase North conference also taking place in Manchester in a few weeks time. Please use the discount code: AY10
This is a highly interactive Testing conference, comprising a programme of presentations, case studies and facilitated roundtable discussions addressing themes such as Agile Testing, BDD, Creating a Digital Testing Strategy, Crowd Testing, DevOps, Mobile Testing, Testing in Continuous Delivery, Test Automation, Test Data Management, among others.
Feb 11, 2016 - Manchester, UK
Thanks to Unicom Agile Yorkshire is able to offer our community a 20% discount on tickets for the upcoming DevOps North conference taking place in Manchester in a few weeks time. Please use the discount code: AY20
The programme of this showcase will cover topics such as how ARA (Application Release Automation) makes DevOps possible, Agile, DevOps and ITIL: Implementing enterprise release management, how to create a fast feedback loop with the right metrics, how to make DevOps fit with governance and regulation, bringing development, testing and operations together, Continuous delivery and two Case Studies, on Lean application delivery and DevOps in the enterprise respectively.