News
Subscribe to posts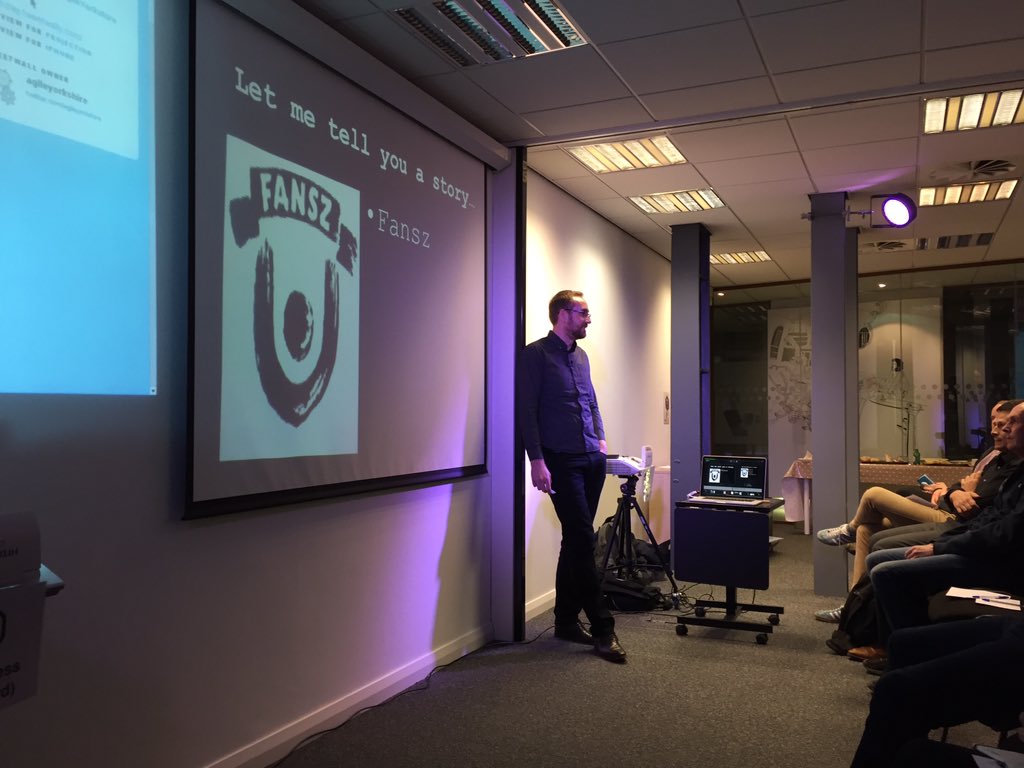 I have to admit that when I arrived at the January 2016 Agile Yorkshire event, I was nervous. A first timer, non-developer, taking notes…what was I thinking? Luckily, there was a warm welcome, plenty of friendly faces, and the speakers definitely provided some food for thought.
First up was test consultant, Ash Winter, who thinks testing is great. That is, testing that delivers value and is suited to the context. Is a full test suite necessary for a product at beta? The presentation showed how a failure can be the best source of learning. For anyone not familiar with the pain of failure there was a photo of a sad puppy – point made! So what suggestions did Ash give? It's important to have an evolving strategy and engage regularly. Ash also mentioned the importance of thinking small and having different tests at different testing levels (Testing Pyramid). Another great suggestion was to pair early especially with developers and write the tests first (Test Driven Development). Consider that tests have a life-cycle and every test must eventually die. Ensure the tests serve you and not the other way round.
David Turner discussed his Agile Journey with the group, highlighting the growing confusion around Agile terminology.  As 'Agile' means different things to different people, it is important to check there is a common understanding from the outset. Rather than focusing on 'Agile' David focuses on pragmatic delivery, i.e. what is the problem you are trying to solve? David believes Agile is really a people management issue, for example, 'how can you best manage a group of IT professionals to deliver something of value?'  He suggested that a good start would be autonomous teams empowered to make decisions, highlighting the importance of thinking about individuals and what motivates them.  David emphasised that emergent architecture is good; rather than making wrong architecture decisions too early, defer these decisions to the point where they need to be made.   On discussing Agile roles, David's view is that '4 developers and a whiteboard' are all that's needed (at this point in the presentation, developers nodded their heads in agreement!) [While a sharp intake of breath could be heard from the rest of the audience - ed]. Finally, David reinforced the importance of treating projects as individuals –a 'one size fits all' mantra is not being Agile.
Slides from the evening
The world's longest running agile conference is coming to the UK for only the second time in its 17 year history. It has always been the only european agile conference to bring academics and practitioners together, but this year it returns to its pragmatic roots, with presentations, workshops, experience reports, tutorials and open space discussions for developers, architects, testers, managers and coaches. Combine that with excellent value, on-site accommodation, an inclusive social programme and a 10% community discount and you have an unmissable event. We look forward to meeting you!
Agile Yorkshire discount code: COMMUNITY-AYORK
Feb25, 2016 - London, UK
It comprises three parallel tracks with plenary combined sessions, each with a different and specific focus.  One of these is for all business sectors and addresses the Agile Programme and Project Management. The other two tracks focus deeply on the unique challenges encountered when introducing, sustaining and scaling Agile within (1) the public sector and (2) the banking, finance and insurance (BFIS) sector.
February 11, 2016 -Manchester, UK
Another thanks to Unicom for allowing Agile Yorkshire to offer our community a 10% discount on tickets for the upcoming Testing Showcase North conference also taking place in Manchester in a few weeks time. Please use the discount code: AY10
This is a highly interactive Testing conference, comprising a programme of presentations, case studies and facilitated roundtable discussions addressing themes such as Agile Testing, BDD, Creating a Digital Testing Strategy, Crowd Testing, DevOps, Mobile Testing, Testing in Continuous Delivery, Test Automation, Test Data Management, among others.
Feb 11, 2016 - Manchester, UK
Thanks to Unicom Agile Yorkshire is able to offer our community a 20% discount on tickets for the upcoming DevOps North conference taking place in Manchester in a few weeks time. Please use the discount code: AY20
The programme of this showcase will cover topics such as how ARA (Application Release Automation) makes DevOps possible, Agile, DevOps and ITIL: Implementing enterprise release management, how to create a fast feedback loop with the right metrics, how to make DevOps fit with governance and regulation, bringing development, testing and operations together, Continuous delivery and two Case Studies, on Lean application delivery and DevOps in the enterprise respectively.
CLOSING Monday 30th NOVEMBER
(event on Tuesday Dec 8th)
A ten minute Lightning Talk for Agile Yorkshire's December 8th 2015 meetup should:
Probably have a maximum of six slides (maybe none).

Be on a topic you already know quite well.

Be interesting to our audience but could be about pretty much anything.

Be possible

 to completely script (if that's your style).

Not be a second more than ten minutes.

Win you a SIGNIFICANT prize on the night if you put your mind to it.
Omnisharp, developing .NET code without Visual Studio

Finding a School - Code vs MumsNet

Build an Interpreter in 24 Hours!

How cars work

10 simple ways to help your team run like clockwork 

How To Write Bad Code

Agile and Knowledge Management: A match made in heaven, or hell on earth?

Success in business is 

short-sighted

ScrumBan vs Sprint
And don't forget there will be 
significant speaker prizes
 on the night.
Fruition, the Leeds based recruitment company
, have generously stepped forward with support and sponsorship for Agile Yorkshire. Without the generosity and cooperation of our sponsors meetups could not happen in the way they currently do. By supporting Agile Yorkshire our sponsors support lean and agile practitioners across the Yorkshire region region with learning and collaboration opportunities through each other and with industry experts nationally.
Martin Jones - Associate Director at Fruition commented...
"Fruition IT are delighted to be joining Agile Yorkshire as sponsors.  As an independent IT recruiter based in Leeds, it's great to be able to contribute to the Yorkshire IT community that is so important to our business."
Please take a moment to let Martin or anyone from the Fruition team know their help is appreciated by taking a moment to say hi over the coming months.

Going down to Agile Yorkshire June event I was curious about the two speakers of the evening...used to categorise presentations with a fellow developer as "technical" or "non technical" we know what to expect in the former case. In the latter, things are more abstract!
The first speaker was Eva Barabas who talked about a Hackathlon organized by a small team she was involved in. A dental care project with product owner, three developers, users, UX, design, analysis, modelling, collaboration, collaboration, collaboration and work, work, work. What did they learn? "Attend more Hackathlons but create things people need".
Indeed, what she wanted to share with us was how important it is in these competitions to build something that users want. I believe we would agree with her. After all, delivering something and seeing it being used leaves a sweet taste.
What I also found interesting was her answer when I asked her in a casual conversation why she attended hackathlons. She answered me she likes to test her limits...as she's normally structured but this event is about incorporating different approaches, being in a sociable environment and getting creative.
The second speaker was Bob Marshall and talked about people's needs and the Antimatter Principle. He addressed some questions to the audience: "Are your needs being met at work?" "What's blocking you from achieving your goals?"
"I like these blockers", a familiar face from the audience answered. "Maybe your need is challenge, then?", he suggested. More joined soon.
While the presentation went by, I heard and wrote down labels-the golden rule, the platinum rule,theory x and theory y,(organisational) cognitive dissonance-and ideas. Now here are some ideas I liked:
-We don't work to get our needs met, we work to make money which will then cover our needs. Interestingly though, when he asked the question "How many of you here think their needs are met by their work?", a lot of hands were raised.
-People assume that other people have the same basic needs. Think of a developer that wants to work alone, not as part of a team, and another that is proud to be a "team player".
-What do you do when individuals or teams have different needs? This must be one of the most interesting problems to be solved towards creating successful teams and organisations.
Finally, the conclusion was that a good job is one that people meet their needs by doing it. "Attend to folks needs" (and you won't regret it) is the essence of the Antimatter Principle. Not sure why antimatter, though.
The evening reached its end then, and we followed to the equally popular after-event: conversing and networking casually at the pub close to the venue.
PS. 
Tester mentality FTW!
The first talk of the May meetup was given by Andy Burgin. Andy spoke to our group a year ago and introduced us to the idea of DevOps, Developers and Operations teams working side by side on a product. Too often in large organisations imaginary bondaries exist between teams, Development to Testing, Testing to Release, Release to Operations. Each boundary acts as a hurdle for knowledge transfer and removes the understanding of the business need from the people supporting the application day to day. Andy advocated a work environment free of these boundaries, where teams were composed from people accross all parts of the business where knowledge could be carried from inception to delivery.
With background and history from the inception of DevOps as well as pictures, stories and anecdotes from the recent Paris conference, Andy guided us through the Evolution of DevOps from it's inception to the present day. I'm sure more than a few people headed back to their companies with a few ideas they'd like to try out! Hopefully he'll have a few more recruits for Leeds DevOps over the next few months!
The second part of the evening was lead by Tony Heap. When I first read the title "There's no Such thing as a Requirement." I was worried, I had visions of a hippy telling us to embrace change and try to persuade our clients to accept fluid specs and hazy deadlines. What Tony brought us however was very different!
We started with an exercise, the CEO of a major supermarket wanted to buy a new tablet. For that he needed to increase profits, he decides to set his IT Manager the task by selling online. The IT Manager takes on this requirement and designs the high level functionality of the site, he passes each page as requirements onto his subordinate who designs what each page should look like... what we quickly realised was that Tony's claim was correct - there is no such thing as a requirement! There are only different levels of design which are done higher and higher up the process. If these "requirements" are simply someone elses design then they should be questioned and challenged!
While we grappeled with this newfound knowledge Tony guided us through the rest of his process. Development teams today are too often held hostage to those fiddly low priority stories, the last 20% of a requirement which takes 80% of the time. Tony illustrated the value of proper prioritisation, weighing the value of those final 20% of tasks against the business need of other user stories. Using the HMS Waterfall as an example Tony demonstrated how proper prioritisation and planning of User Stories is as essential to the modern team's work as a compiler and keyboard. More details of
Tony's process can be found on his blog It's All Design.
Finally thanks also to all our volunteer team who make the event happen and to main sponsors Piksel, Callcredit and NewRedo and to our prize sponsors O'Reilly, JetBRAINS,Manning, Wrox and PluralSight. 
A push on Code Club recruitment from Linda Broughton, a tour through the world of legacy code with Krystan Honour, plus Joe McGrath and Kevin Murray on transforming NHS Choices with lean and agile user experience were all topics on the table for Agile Yorkshire's April gathering. 
With over two hundred primary schools in Leeds and a lot less than half of them with a Code Club up and running there is plenty of room for improvement. Linda Broughton is the Code Club area coordinator and in collaboration with the new Google Garage in Leeds is running a series of training sessions where volunteer candidates can find out how to get involved and what to expect. Keep an eye on twitter and the Code Club website for more information.
Krystan Honor is long standing member of the Agile Yorkshire community and this month finally succumbed to requests to speak with a slot about legacy code. After a few minutes covering his career history and with legacy code defined as potentially anything just a few months old, it was clear Krystan was well placed to provide some insightful wisdom on the topic. He covered how it happens, how to embrace it and most importantly some guidance on its management.  With the discussion exploring the installation of team knowledge, workshops covering engineering good practice, code review, regular pairing, exploring test frameworks and tactics and an attack on coupled code and dependencies the half hour time slot was soon over and rounded off with questions and answers.
Joe McGrath and Kevin Murray occupied the sixty minute space with a preview of the presentation the pair were booked to deliver at the Agile Manchester conference in early May. Their talked entitled ???? covered process they recently adopted in an attempt to improve the quality and effectiveness of parts of the NHS Choices website use for self diagnosis. 
The target for attention centred around the pages used by people to identify the signs of chickenpox and by adopting a build, measure, learn approach, popularised by the lean start-up movement, a iterative product development cycle of research and reflection began.
Joe and Kevin described their use of a technique referred to as assumption mapping to help identify targets for their attention and how using personal profiles their mapped out initial user journey examples. These were later tested by moving into the interview rooms of the usability labs where, at times,  the whole team were able to see first hand how actual people reacted to the candidate designs and prototypes. Often these early designs were nothing more than paper sketches but
combined with "poker faced" usability analysts asking the questions was important to be able to move fast and collect unbiased data. They went on to describe the use of a technique they called "affinity sorting" to help with discovering and ranking items for implementation and further user testing. With a typical five day time box broken down into two days of discovery and three of implementation progress was steady and quantifiably positive.
At the end of their presentation the questions came think and fast and the feedback forms collected were proof of both the fascinating content and excellent delivery from both presenters.